The Strange Case of… Shiva Affect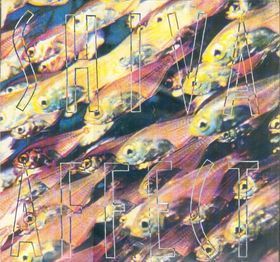 I always semi-joke to anyone who will indulge me that I was born 15 years too late. It's satire of a sort, but as Jonathan Meades said, "It is through caricature that we see what faces and voices are really like, and the same goes for places". And sounds. And how sounds define who people are.
In the internet age I have been fortunate to stumble across a lot of stuff that I may well otherwise never have heard – I suppose I'll never really know for sure. Eyeless In Gaza, This Heat, A.R. Kane, Kitchens Of Distinction, Adorable, god knows how many others. I may have missed seeing most of the music that means something to me unfold contemporaneously, but hindsight allows one to be more thorough.
Even so, I'd never heard of Shiva Affect. Never, ever, ever.
I stumbled across the name one day. I don't remember exactly how, but it was Bark Psychosis-related. Any comparison with BP is, these days, pretty much immediately enough for me to do some further investigating, but this was different. I could hardly find any information whatsoever – almost none at all. At all. In the same way as with Stella Luna, this seemed tantalising; and furthermore, there was a production credit for Graham Sutton - he who this very blog is named for. I couldn't let this lie, particularly after I finally managed to locate a tragically bad-quality vinyl rip of Shiva Affect's only album, Yahweh. It still sounded breathtaking. Why hadn't I heard about this before?
After a few vague inquiries and a few months, I managed to track down Shiva Affect's bassist Rik. This is what we talked about.
—————————————-
- Tell me about what was going on in London in 1994.
London was vibrant at that time - there had been, like in the rest of the country, a massive dance music revolution. London being such a big capital city meant that there were plenty of empty buildings begging for parties to be held in and there was always interesting club nights appearing and new, exciting music being made. 1994 would have seen the beginnings of Jungle and Drum & Bass. As well as the dance scene there seemed to be a widening of tastes and crossing of styles. 
At that time also there was the M11 motorway extension protest happening in east London, which was one of the first of such protests that bloomed in the 90's against, initially, car culture and unnecessary road building, but would eventually grow into the anti-capitalism movements of the last 10 years.
- Were you aware of what Bark Psychosis were up to before you ended up working with Graham Sutton? How did that come about?
A few years before Shiva Affect, I was in a band called The Fury Things who released a 12" single on Cheree Records with whom Bark Psychosis released their early material. We shared the bill at a couple of gigs. It was early days for them - I remember them being incredibly noisy, almost death metal… it wasn't my cup of tea at the time. Then I got to know Graham and John Ling when they were squatting in a house on Claremont Road, which was earmarked for destruction on the M11 motorway extension. This was a year or two before the protest took off, but the houses on Claremont had been squatted in for years and there was a vibrant creative community there. It was somewhere I would go to get some weed and hang out. We shared music tastes and I ended up driving BP to gigs. This was around the Manman and Scum times, very intense gigs, though spacious, amazing!
Then in 1993 John said he knew a guitarist and drummer who were looking for a bassist. That was Ed Deegan and Napoleon Catilo. They had also met John and Graham through Cheree. Ed was a huge Telescopes fan and found out about Cheree, went through their catalogue and found and became a fan of Bark Psychosis that way . A demo of their previous band The Pond was sent to Cheree which also got into the hands of Graham and John who were impressed, liking the heavy guitar wall of sound - a BP support slot at an upcoming Marquee show in London was arranged and they met then. I was more than likely at that gig but have no recollection of seeing them play! We met at John's squat, had a good chat and started meeting up regularly to jam out ideas. In fact, we first started playing together in the crypt at St. Johns Church where BP rehearsed and recorded. At the time they were wanting to help other up and coming bands and we were one such bunch.
A little later when we were recording the 7" single ('Rest is Easy') it felt natural to ask Graham to produce. Though we had some studio experience between us, it made sense to have him on board as he had plenty more experience and it was good to have someone we knew, trusted and had a feel for what we were doing.
- To my ears, the sounds of the two bands certainly share some of the same territory, but Yahweh seems like it's a lot more brooding and violent than Hex. It's that old 'sound of the city' cliché, but I think it's true. Is there anything in this?
Sure, we shared similar tastes in music, similar influences were there. Hex has a very polished feel to it, it was certainly a 'produced' album, where as Yahweh was more or less how we played live. There were limitations in the recording process we chose. The majority of the album and the EP that followed were recorded at Toe Rag Studios, which was, and still is, an 8-track vintage analogue studio which meant we recorded the music live in the studio with only the vocals and minimal overdubs added after. Old school! That's the difference I hear in the two albums. The environment that you live, create and record will always have some effect on the music you produce for sure, so I'm not surprised that you may hear 'the sound of the city'. But we had no preconception to make it sound that way.
- Was the end of the band a sudden thing? Were there ideas left unrecorded?
After the EP was recorded there were personnel changes and momentum was lost. There were a couple of things recorded, one of which I was able to find and is going to be included on the upcoming CD compilation.
- Details about Shiva Affect are almost impossible to find - I had thought that the internet had pretty much steamrollered any sense of mystique about bands, new or old - but perhaps not. Do you care at all about how the net has affected people's perceptions of music and artists?
Yeah - Shiva Affect seemed to go under the internet radar. That was partly to do with the releases being vinyl only… there hasn't been anything digital available. And up until a couple of years ago, the band was just a pleasant distant memory for us.
These days though, the combination of cheap recording and the internet means there are now so many bands out there, all with online profiles, all trying to grab your attention. It's great that so many people around the world are being creative and expressing themselves in music, but it can sometimes seem like wading through the ocean looking for some tasty fish. I do kind of miss the days of listening to John Peel, reading the music press and flicking through latest releases at the local record shop (starting to show my age here!). The downloading thing has definitely changed things. Unfortunately there's a perception now that music is free which is not good for the musicians. I work in music production and am well aware that it still costs, in time and energy, as well as money, to produce recorded music. Musicians that I know and work with basically only sell CDs at gigs. This is a consequence of the digital revolution.
- In general terms, what do you make of the whole reformation fad?
Well, I loved seeing The Stooges performing Raw Power the other year. I think ATP have got it right, inviting bands to get back together and perform iconic albums. But it can be a letdown as well. I remember having to walk away from The Velvet Underground at a festival in the 90s because I felt they were slaughtering much cherished songs. You take your chances. But of course the whole nostalgia thing of the last 10 years or so means there is less focus on new music. I'm no different. I work with new music in the studio but my own music tastes will be predominately older music.
- What made you revisit Yahweh now? I hear a remastered version is about to come out.
A few years ago, Randell Nieman from the band Fuxa and label Mind Expansion got in touch with me through old Cheree contacts and expressed a wish to re-release the Shiva material on CD. This appealed to me as I was never 100% happy with the pressing quality. It's been a good opportunity to find the tapes and preserve the recordings. We were lucky as the tapes were starting to degrade and we transferred them just in time. It's going to be a compilation of the album and the Road Movie EP together, plus an extra outtake from a session as the band was breaking up. For me the remaster is sounding much better, very pleased with that and it should be out in the summer.
- Are you happy with Yahweh's (admittedly limited, but still!) reputation as a hidden little gem of a record? Or is it something you wish had wider attention?
It did as well as it did considering we were not a touring band, playing only a limited amount of gigs to promote it. You can't change the past. It's been a pleasant surprise to see that it does have a high regard with a few connoisseurs! There's a couple of blogs like yours talking about the band and it was nice to see that someone had taken the time to rip the vinyl onto YouTube last year… in fact it pushed me to get on with the remastering.
- Were there any other bands kicking around at that time who have also gone under the radar?
No, nothing comes to mind - the old memory isn't what it used to be…
- You mentioned that you tend to gravitate towards older stuff, but what (if any…) current bands particularly excite you?
I've been really into Efterklang. They seem to be on a real good creative arc and really seem to love what they do and that shines through the music. I got to see Bonnie Prince Billy for the first time this year and that concert completely blew me away. His 2010 album The Wonder Show of the World has been a big favourite. And the artist I've been co-producing recently, Francesca Baines, never ceases to amaze me. Her debut album Vela is out this summer, check it out, it's amazing (shameless plug!).
- Do you ever stumble upon artists who you feel are coming from the same kind of creative places that you and Bark did? Every now and then I find someone where a similar kind of aura exists - Esben & The Witch or Epic45, for example - but it's pretty rare…
Yes, it's rare to find something like that, but recently here in Ireland (where I now live) I've come across a Dublin band called Halves. Although things like Sigur Ros come to mind, they also reminded me of BP as well as other bands of that early nineties period. The EP Haunt Me When I'm Drowsy is a particular favourite of mine.
—————————————-
Yahweh is one of those serendipitous discoveries - it's brooding and dark and takes its time, and it feels simply wrong that a product so good is not known. Like Hex, it is difficult to imagine much like it emerging now; but that is the appeal. Rose-tinted glasses be damned - that is the time where I belong, and that's an ambition and a place where I very obviously cannot ever be. But the sound of it will always exist for those who want to dream.
x