Top 10 Albums of 2011 - 1
1 - Esben And The Witch - Violet Cries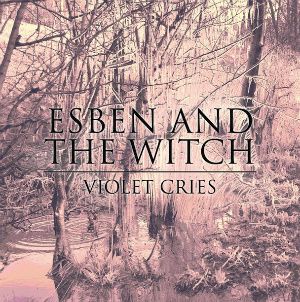 I will hunt the one that burns out the beacon
There's nothing else for us to do here.
But cut the sun from its mooring;
We will cut the sun from its moorings.

Our hands blister as we hold them in the light streams.
So, last year it was These New Puritans' masterpiece Hidden. This year it's something a lot more eerie, from a polar opposite band; who are not composers, who don't spend their time on notation and chamber arrangements and the resonance of different types of chain metal. These are kids with ideas flowing from their eyes like light streams. This is a band who hardly had time in those 365 days to do everything they needed to. The tally is remarkable - this record, the Chorea EP, and latterly the Hexagons EP, a thing of storytold blinding wonder. Three distinct markers. This was the first, though. This was their statement.
I've rambled on about 2011 being the year of reclaimed shoegaze; the year when what was most appealing to me didn't try and hide the obvious influences, didn't try and pretend that it was collectively too cool, too far beyond. Within this disclaimer, Esben succeeded more than anyone else in taking those familiar references and shaping them into their own; "gothgaze", someone told me with a wry smile.
Listen to how the guitar builds on Marching Song, betraying the minds of kids who thoroughly know what they are doing. Listen to that gleefully obnoxious digital distortion on the incredible opening track, Argyria; same kids taking delight in taking the piss. How about the deadset Bark Psychosis guitars in Light Streams, emerging from a terrifying cave of infinitely reverbed vocals?
What takes it above and beyond is not, in the end, the collection of careful textures and simple melodies and how they entwine and conflict; it is the most obvious attribute, Rachel Davies's voice. It's Natasha Khan on a bad trip; it's Elizabeth Fraser having a rageful fight with you in close quarters. Rachel whispers and yelps and preaches and summons, and by the time she finishes the album, almost alone - We are the eryar. Here come the eryar - the atmosphere has gotten very nasty, the residue is something genuinely unsettling, as a fairytale burning and out of control. All well and good; the best of all, though, is Warpath.
Keep these secrets in my skin.
These sounds are that of moors and mountains and forests; the Germanic kind, the home of the cartel of the monsters. But equally it is crumbling factories, pit wheels that stopped turning, vast reservoirs of industrial waste, from whence the argyria came. It's where humans interfered, and wrecked, and left. It's denial of progress and celebrations that it ever happened, so that it could stop, and get forgotten.
This was the best album of the year by the most interesting, daring and imaginative band; with no competition at all. They ended 2011 a markedly different outfit from the one that commenced it; but whatever their state, they stand alone, and Violet Cries is fucking, fucking amazing. A worthy winner.*
x
* - Or is it? Tune in next time for a Deus ex Machina-esque twist…